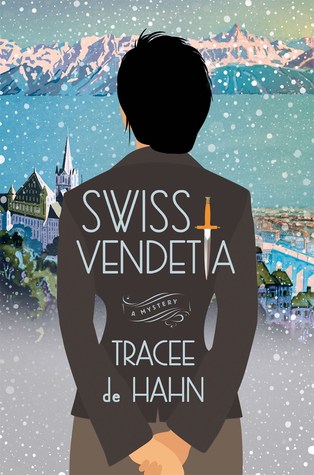 Reeling from the sudden death of her husband, Inspector Agnes Luthi has been transferred from the Financial Crimes Division to the Violent Crimes Division of Laussane. In
Swiss Vendetta
by
Tracee de Hahn
, Agnes is about to leave for home at the beginning of severe ice storm when a call comes in about a death at the aristocratic Chateau Vallotton in Ville-sur-Lac.
Once she arrives through the hazardous conditions, she discovers the murder victim is a young woman hired to evaluate and catalog the antiques in the Chateau. At the residence is the marquise - the grande dame of the household, her two nephews, the wife of one of them, her godson and a random American intern. No one seems to know what drove Felicity Cowell outside in the sleeting, freezing weather clad only in a vintage evening dress in a man's overcoat and heavy boots too large for her.
Also arriving on the scene is Luthi's former boss in financial
crimes division Carnet, Doctor Blanchard and mountaineer Frederic Estanguet who has guided the men through the blinding whiteout to the mansion. Stymied by the ice storm and the reticence of the family, Luthi persists in her investigation.
She realizes the body was found in a grove of trees equidistant from Chateau and the neighboring mansion. Once the ice storm stops, Luthi heads to the other mansion to interview Monseiur Arsov, a wealthy Russian, World War II survivoe.
Although the initial mystery of who killed the young woman is interesting, the plot diverges into several subplots that clutter the story. Luthi learns the shocking truth behind her husband's suicide, someone is stealing small antiques to sell and there is revenge in the air.
I think this was too complex a plot for a first-time author. I am hoping the second book is less cluttered. I was exhausted after I finished
Swiss Vendetta
.